All battery disconnect switches are used to separate the batteries from the 12-volt distribution panel and converter charging system with different designs. The design of a switch usually determines that some switches are only ideal for car batteries, while others can serve many applications.
1.Knife Blade
These battery disconnect switches are very common,which are easy to install and use. They are used when there is little clearance above the battery. They are made in the shape of a knife blade—hence their name.
These switches are used on top of the battery switch and can operate vertically, horizontally, or with a wingnut. Thus as long as the amperage is right, they can be installed on any battery.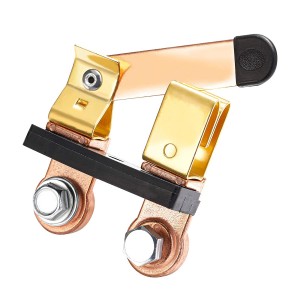 Made of  brass and electroplated with copper
DC 12V-24V system, 250A continuous and 750A momentary at DC 12V
2.Knob-Style
These switches use a knob that turns clockwise or anti-clockwise to disconnect or connect the battery. They can be top post or side post switches. They are some of the most effective anti-theft battery disconnect switches as their knobs can be easily removed.
By simply turning the knob about 45 degrees, you can engage or disengage the switch,easy to install.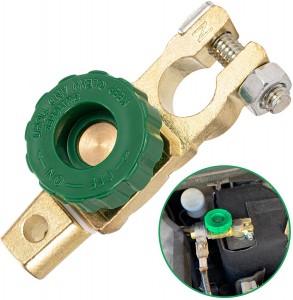 Made of zinc alloy with brass plating
15-17 mm cone top post terminal
3.Keyed and Rotary
These are found in boats, RVs, and some cars. They have two key functions: to curb battery drain and theft. They operate using keys or rotary switches. Keyed switches can either have actual keys or plastic keys that can be used to cut off power. Most keys are made of plastic and fit perfectly on the thumb for ease of use.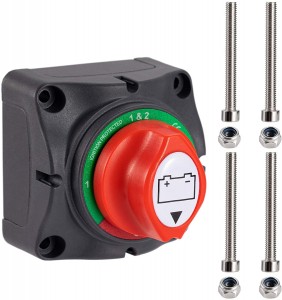 Made of PBT plastic housing, copper tin plating inner stud
Rating: 200 Amps Continuous,1000 Amps momentary at 12V DC.
---
Post time: Jun-29-2021