As we know, without the correct air chuck,it is almost impossible to inflate a tire. That is to say, an air chuck allows the air to flow in the correct direction. If there is no airflow from the compressor to the tire, the air chuck can prevent the air leakage in the tire. Once air pressure is applied, it allows air to flow into the tire.
In other words, an air chuck is an accessory that allows you to inflate a tire with the desired amount of air to make it function properly.
There are 3 kinds of tire air chuck we have.
1.SKU:102028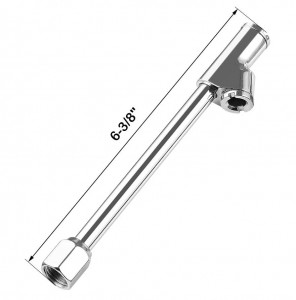 Made of chrome-plated iron stem
6-3/8″ long, with 1/4″, fit for 1/4″ FNPT fittings,and 5/8'' hex connector
Dual zinc alloy head push-pull chucks ideal for dual wheels and other difficult to reach valves.
Closed flow tire chuck with shut-off valve.
Designed for inner/single wheels or hard-to-touch valves,and 30°reverse chuck for outer wheels
Perfect for truck,bus,car suv,rv,bike(with schrader valve)
2.SKU:102017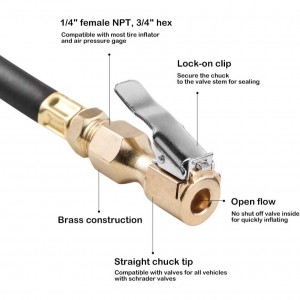 1-5/8'' long,maximum pressure is up to 250PSI
Premium solid durable brass construction,open flow
1/4″ female NPT, 3/4″ hex
Designed for quick inflating
Straight chuck is suitable for all vehicles,such as bus trailer RV motorcycle bike (with schrader valve) 
3.SKU:102017A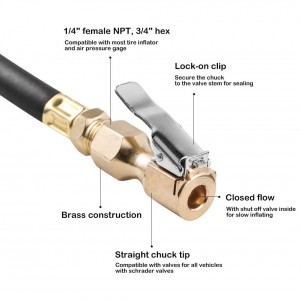 Made of premium brass,solid and durable
The ¼ female NPT threads suitable for most air inflators with a pressure tasks up to 250 PSI
1-5/8″ long
The closed flow design allows air to flow when the internal flow valve is open
---
Post time: Jul-12-2021